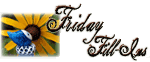 1.
Quinn's laughter
never fails to make me smile.
It's contagious!
2. I'm looking forward to
the end of the school year and start of our summer activities! We'll be busy - that's for sure!
3.
Dave Ramsey on the radio, Lady GaGA on my ipod
. . . is what I'm listening to right now.
4. Potato salad must have
nothing
in it!
Really, I just don't like it no matter how it's made!
5.
Pizza Hut pizza
was the best thing I ate today.
6. Today was
productive and uneventful. (That's a good thing!) :)
7. And as for the weekend, tonight I'm looking forward to
watching our kids' drama performance
, tomorrow my plans include
hanging out with my good friend, Joy (dinner, scrapbooking, talking, and just having fun together!)
and Sunday, I want to
play games with my family and digi scrapbook!